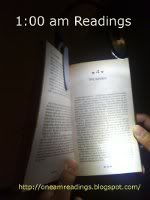 Hi All,

First, thanks for stopping by. I started this blog 2 months back and I kept checking my blog for new comments and also I spend lots of time blog-hopping to other book blogs. Well, its fun. Better than doing house chores :P

I have a question here and
would love to hear answers from you
. For each of the word listed below, name a book which pops into your mind right away :D

1.
FUNNY


2.
SMILE


3.
CRY


4.
IMPRESSIVE


5.
SUSPENSE


6.
BORING....


7.
STOP
(You stop reading the book halfway :P)



Rules:
1. Enter your blog name in list below. Write your Blogname, your name, your favorite book Genre.
2. Post the answers to the questions above and post in your Blog as creative as you want it to be. I'll be delighted to read your blog-post!
3. Visit and make friends: Visit other blog who are in the list and make more frinds in your life. See others creative blogs. Give comments and become their followers if you want to.
4. Open to ALL. everyone is welcome to JOIN....